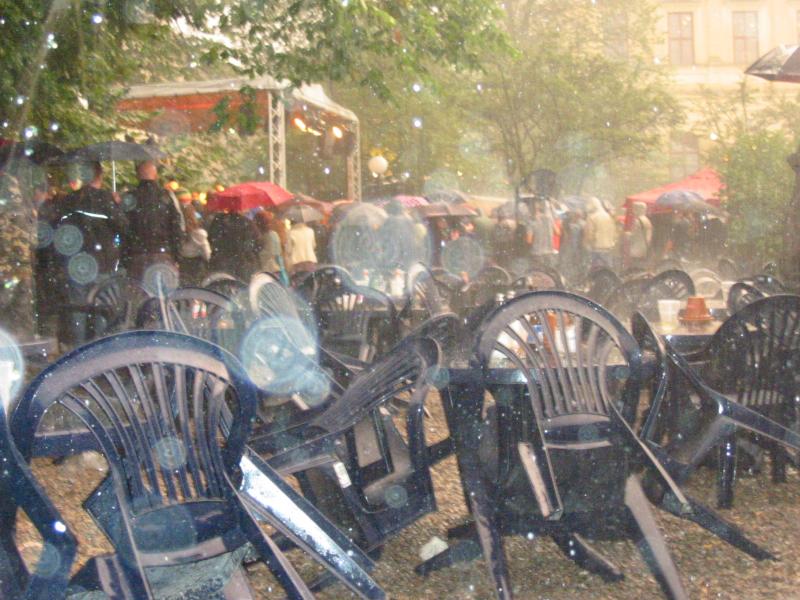 Freya went to her first proper concert tonight, Linton Kwesi Johnson. Brilliantly (at least for the greater portion of the evening), it was on the terrace of a local nightclub, Mosebacke. This allowed Freya to be able to wander around before the show, explore various bushes and rock formations, and play with another girl who had come with her English/Swedish parents.
I say for the greater part because for about fifteen minutes, just before the band started, it absolutely tipped down with rain, causing the band, who quite rightly feared being electrocuted to death when the stage became flooded, to take respite from the sheer wall of precipitation.
The concert, when it resumed, was of high quality, and Linton's personality and presence shone through his calmness.
I had occassion to visit the portaloo about halfway through the concert. The blanket of rain we'd experienced earlier was nothing compared to the marjiuana hit I recieved when I opened the door. I'm amazed the stench had managed to contain itself to such a small area and now I wonder if the open-air concert was more than just happenstance.
Sadly, the gig didn't get any better audibly after my toilet visit; I should have stayed for a poo.